Teen/Adult Drop-in Dance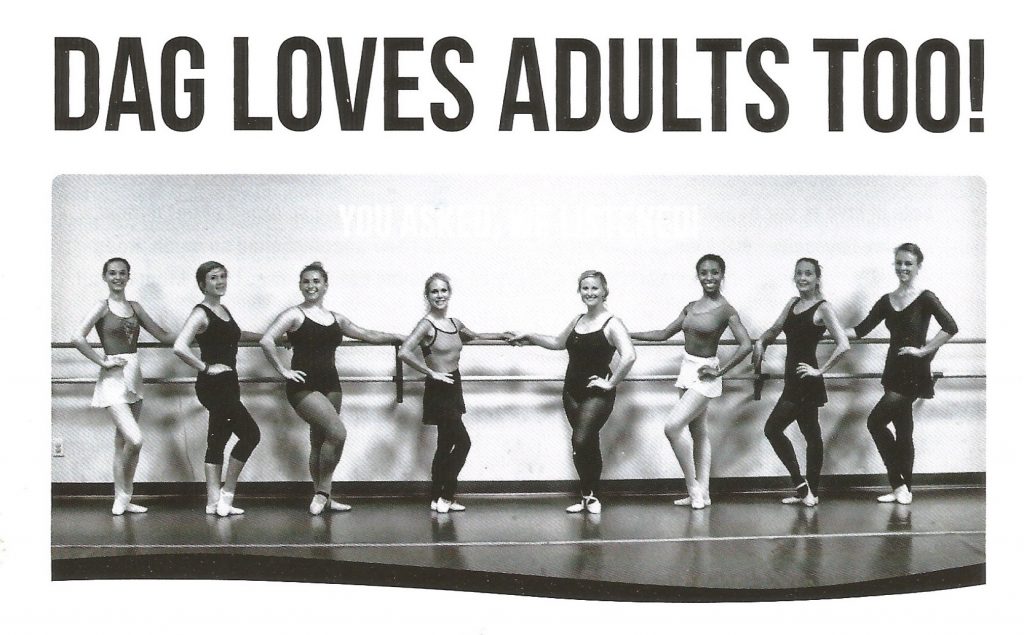 Did you know DAG offers drop-in dance classes for Teens/Adults?
Our Teen/Adult Open Division is dedicated to helping you de-stress, enhance your body strength and coordination, and nurture your mind and spirit through the wonderful art of dance. Our highly skilled instructors are committed to providing a comprehensive experience for all participants. We offer a variety of classes, including ballet, ballet with progressing ballet technique, contemporary, jazz, and tap, enabling adults to explore and learn a diverse range of dance styles.
At our studio, inclusivity is a top priority. We strive to create a warm and supportive environment where individuals of all skill levels feel welcome. Whether you're a beginner taking your first steps or an experienced dancer, our classes are designed to accommodate and challenge each participant appropriately. We believe in tailoring our instruction to meet your unique needs, ensuring that you receive the utmost guidance and encouragement in your dance journey.
Teen/Adult Program Schedule
Monday-
7:00-8:00pm Adult Contemporary w/Ms Marja
Tuesday-
6:30-7:15pm Adult Jazz w/Ms. Robyn
7:15-8:00pm Adult Tap w/Ms. Robyn
Wednesday- 
7:15-8:15pm Ballet w/ Mr. Martin
Thursday- 
6:30-7:00pm Ballet with Progressing Ballet Technique w/ Ms. Kiera* starts August 24th
Adult Program Pricing / Payment Options
Pay for classes on a drop-in basis pricing is as follows:
45-minute class (Jazz, Tap)     $10.00
1-hour class (Ballet ) $15.00
1.5 hour class (Ballet w/Progressing Ballet Technique) $20
Purchase a dance card the value is $150.00 (non-refundable) or Pay as you go (Credit Card is on file and drafted per class) There is no registration for this class. Please, Stop by the office and make sure to sign-in. 
Attire is what makes you feel comfortable. Basic ballet tights and leotard with ballet shoes will allow best feedback on body alignment/placement. However if you feel more comfortable in yoga/sweat pants and a t-shirt that is just fine with us!