Adults Dance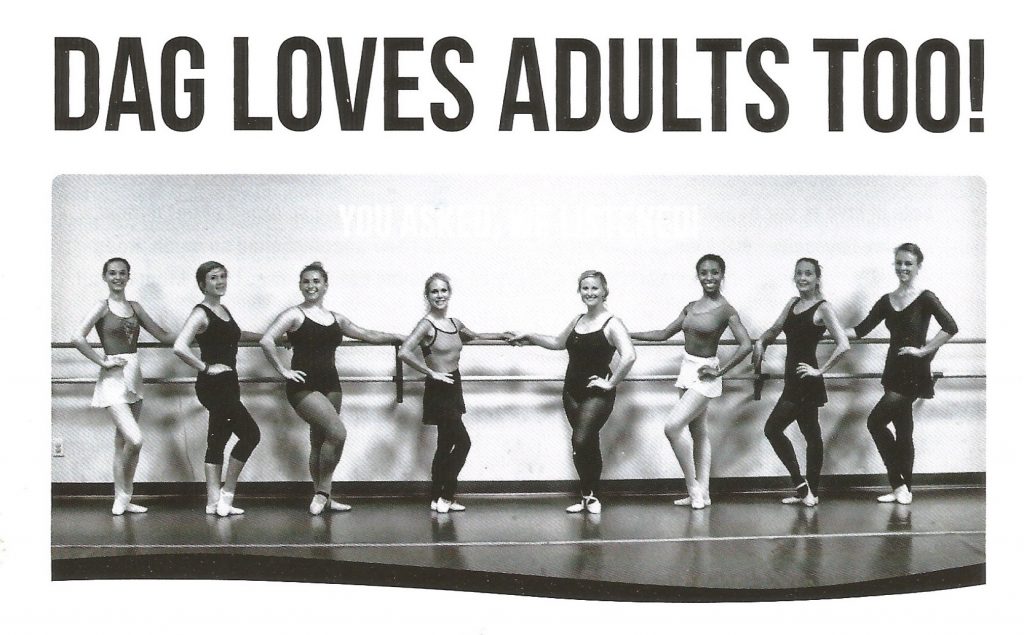 Did you know DAG offers dance classes for Adults?
We understand adults have busy lives so you simply drop in when it works into your schedule. No hassle or stress, just show up for class. Our instructors will help you de-stress, improve your core, arms, and legs as well as educate you on ballet, jazz, tap, lyrical, and our Core de Ballet™ class.
DanceArts Greenville loves Adult Dance Students! There will be 6 Adult Ballet classes throughout the week! Starts September 5th.
2017-2018 season starts Sept. 5th
Monday
7:15 pm – 8:45 pm Ballet with Josha Williams $20
8:45pm – 9:30pm Tap with Robyn Maggio $10
Wednesday
7:30 pm – 8:30 pm Ballet with Josha Williams $15
8:30 pm – 9:15 pm Adult Jazz with Robyn Maggio $10
Saturday
9:30 am – 10:30 am Core de Ballet with Josha Williams $15 
Adult Program Pricing / Payment Options
DAG Adult is as simple as 1, 2, 3
You pick how you would like to dance, you may even mix and match.
1. Pay for classes on a drop in basis pricing is as follows
45 minute class (Jazz and Tap)     $10.00
1 hour class (Ballet on Wednesday and Saturday) $15.00
1.5 hour class (Ballet on Monday and Contemporary/Lyrical class) $20.00
Stop by the office each class day and pay for your class and you will be given a pass to class.
Purchase a dance card the value is $150.00
Benefit for dance card holder is that all ballet, and contemporary/lyrical classes will be charged at the $15.00 rate.
All Jazz, and Tap classes will be charged $10.00 per class.
Stop by the office each class day and have your card punched for your class and you will be given a pass to class.
Pay monthly Adult Dance tuition rates
Ballet only membership. Take 3 ballet classes per week Monday, Thursday and Saturday. Tuition rate is $140. This is a savings of $60.00 per month.
Ballet + Jazz, Tap and Lyrical. Take 6 classes per week. Tuition rate is $200. This is a saving of $140.00 per month.
Payment information will be kept on file with the DAG office, each month you will be given a monthly pass to class to show the instructor at the beginning of each class. If you wish to have a month held or end the monthly tuition you must inform the office prior to the 1st of the month.
*If you currently have a dance card. The amount remaining will be converted to the new dance card or applied to the first month of tuition.
DanceArts Adult classes are designed to be for a broad range of students. Our instructors know that adult dance students come in all ability levels. If you are just starting out you are welcome to any of the classes offered. The instructors are masters at teaching to varied skill levels.
The first class is always on us. We want you to come see what we are all about, we know you will love it and want to come back for more.
If you are new to DAG Adult please complete a registration form and send it our way. We look forward to seeing you in the office before your first class where we will give you a trial class pass.
Attire is what makes you feel comfortable. Basic ballet tights and leotard with ballet shoes will allow best feedback on body alignment/placement. However if you feel more comfortable in yoga/sweat pants and a t-shirt that is just fine with us!