Adults Dance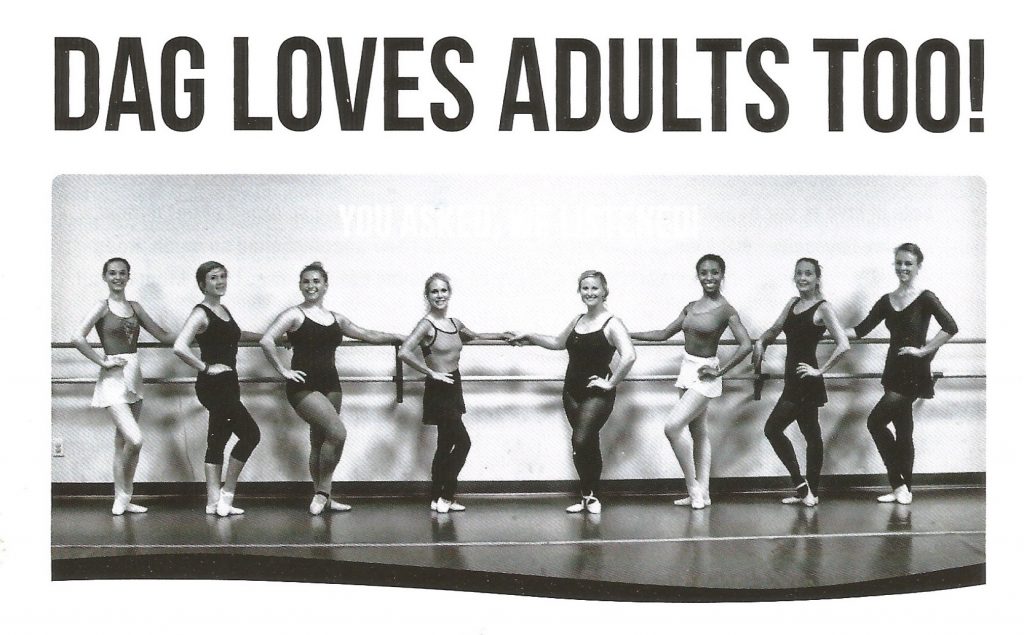 Did you know DAG offers dance classes for Adults?
We understand adults have busy lives so you simply drop in when it works into your schedule. No hassle or stress, just show up for class. Our instructors will help you de-stress, improve your core, arms, and legs as well as educate you on ballet, jazz, tap, and our Core de Ballet™ class.
What is CORE DE BALLET™?
CORE DE BALLET™ is DAG's global body conditioning program. Designed to aid our students "awaken" areas that target the "core" muscles of ballet. Turn-out and alignment, having the main foucs.
Based around our qualified "core" DAG instructors, we will implement Pilates, Floor Barre based on the Boris Kniaseff technique and elements from the hottest current fitness industry.
We believe that this program is an enrichment to all dance genres with ballet being the main focus. It  specializes in those keenly refined muscles that make a beautiful sculpted ballet body.
CORE DE BALLET™ is for Adults and Teens too. It is not only an enrichment for training ballet students.
2017-18 Schedule
Monday
7:15 pm – 8:45 pm Ballet with Josha Williams $20
8:45pm – 9:30pm Tap with Robyn Maggio $10
Wednesday
7:30 pm – 8:30 pm Ballet with Josha Williams $15
8:30 pm – 9:15 pm Adult Jazz with Robyn Maggio $10
Saturday
9:30 am – 10:30 am Core de Ballet with Josha Williams $15 
Adult Program Pricing / Payment Options
Pay for classes on a drop in basis pricing is as follows
45 minute class (Jazz and Tap)     $10.00
1 hour class (Ballet on Wednesday and Saturday) $15.00
1.5 hour class (Ballet on Monday) $20.00
Stop by the office each class day and pay for your class and you will be given a pass to class
Purchase a dance card the value is $150.00
Benefit for dance card holder is that all ballet classes will be charged at the $15.00 rate.
All Jazz and Tap classes will be charged $10.00 per class.
Stop by the office each class day and have your card punched for your class and you will be given a pass to class.
DanceArts Adult classes are designed to be for a broad range of students. Our instructors know that adult dance students come in all ability levels. If you are just starting out you are welcome to any of the classes offered. The instructors are masters at teaching to varied skill levels.
The first class is always on us. We want you to come see what we are all about, we know you will love it and want to come back for more.
If you are new to DAG Adult please complete a registration form and send it our way. We look forward to seeing you in the office before your first class where we will give you a trial class pass.
Attire is what makes you feel comfortable. Basic ballet tights and leotard with ballet shoes will allow best feedback on body alignment/placement. However if you feel more comfortable in yoga/sweat pants and a t-shirt that is just fine with us!