Teen/Adult Drop-in Dance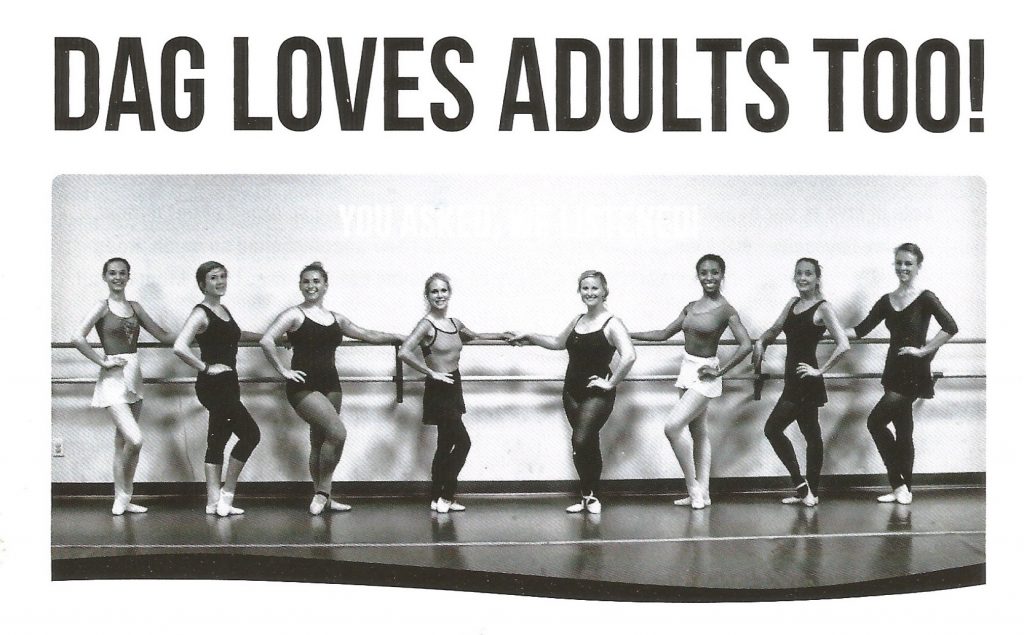 Did you know DAG offers drop-in dance classes for Teens/Adults?
We understand adults have busy lives so you simply drop in when it works into your schedule. No hassle or stress, just show up for class. Our instructors will help you de-stress, improve your core, arms, and legs as well as educate you on ballet and tap.
NEW: We have classes through Zoom if you prefer to not come into the studio. Contact the office for more info.
Teen/Adult Program Schedule
Adult Program Pricing / Payment Options
Pay for classes on a drop-in basis pricing is as follows
45-minute class (Jazz and Tap)     $10.00
1-hour class (Ballet ) $15.00
Classes through ZOOM (Pay through Venmo or PayPal):
Jazz or Tap $5.00/each
Ballet $10
To pay for Zoom classes:
Venmo @anita-pacylowskidag
Paypal: office@DanceArtsGreenville.com
Register here before paying for a class.
In the notes let us know what class you're paying for and how many people (if more than one).
Stop by the office each class day and pay for your class and you will be given a pass to class
Purchase a dance card the value is $150.00 (non-refundable)
The benefit for the dance cardholder is that all ballet classes will be charged at the $15.00 rate.
All Jazz and Tap classes will be charged $10.00 per class.
Stop by the office each class day and have your card punched for your class or pay by the class.
DanceArts Adult classes are designed to be for a broad range of students. Our instructors know that adult dance students come in all ability levels. If you are just starting out you are welcome to any of the classes offered. The instructors are masters at teaching to varied skill levels.
If you are new to DAG Adult please complete a registration form and send it our way.
Updated on Thursday, June 24th.
Attire is what makes you feel comfortable. Basic ballet tights and leotard with ballet shoes will allow best feedback on body alignment/placement. However if you feel more comfortable in yoga/sweat pants and a t-shirt that is just fine with us!