Hernan Justo – Co Director
Hernan Justo began dancing in 1974 at the Instituto Superior de Arte Teatro Colón
in Buenos Aires, Argentina after ten years of training he joined Ballet Estable de Tucuman
in 1981 then Ballet Estable del Teatro Colón in 1982 and then
Teatro Argentino de la Plata in 1984 until he left Argentina.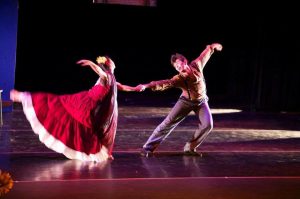 Hernan and Anita in The four pictures of Frida
His career then took him to the Ballet de Santiago of Chile in 1988 where he work with teachers and choreographers such as Gyula Pandi(NCSA), Andree Prokovski(English National Ballet), Ronald Hynd (English National Ballet), Ivan Nagy(American Ballet Theatre), Lazlo Seregui(Hungarian National Ballet) Jack Carter (English National Ballet), Simon Motramm (Ballet Scapino Rotterdam ) Ben Stevenson(Houston Ballet) among many others. In Chile he had the opportunity to perform as soloist in ballet such as Giselle(Nagy after Perrot), Swan Lake(Stevenson after Petipa),The Taming of the Shrew (John Cranko), Anna Karenina (Andree Prokovsky), The Three Musketeers(Andree Prokovsky) The Idiot (Valery Panov),The Witch boy (Jack Carter)


Hernan in Who Cares?
After three years he moved to the Ballet Clásico de Camara in Caracas (Venezuela) Under the artistic direction of Nina Novak (Ballet Russe de Montecarlo) where he had the opportunity to work with Kaleria Fedicheva(Marinsky Theatre –  Russia) Vera Kirova (National Ballet of Sofia – Bulgaria). Mr Justo performed most of the pas de deuxs of the classical repertoire and later he joined Ballet Contemporaneo de Caracas, Venezuela where he worked with Guiseppe Carbone (Scala de Milano) and performed repertoire by John Butler such as Othello and Carmina Burana and Maria Eugenia Barrios: Three Loves, Shivaa, and Let's Dance. In 1992, Justo won the "Best Couple" award at the XV International Ballet Competition in Varna, Bulgaria, the most prestigious competition in professional ballet. He also was nominated as "best dancer of the Year" in 1992 by "Casa del Artista" in Caracas Venezuela and he has also won "Best Classical Interpretation" at the Prix Volinine in Paris, France. In 1994 he participated in Summer Italian Tour performing in Venice, Bassano Loano, Jessolo, Vignale. And in the International Ballet Festival in Havana. Cuba.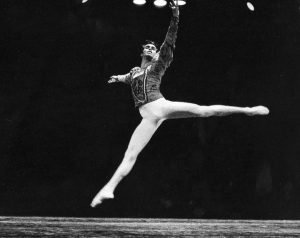 Hernan Justo participated in performance and galas with many of the most prestigious dancers in the world such as Maximiliano Guerra (Scala de Milano) Julio Bocca (American Ballet Theater) Maya Plisetskaya (Bolshoi Ballet) Jorge Ezquivel (National Ballet Cuba – San Francisco Ballet) Nikolaj Hübbe (New York City Ballet – Royal Danish Ballet, Artistic director) Dagmar Moradillo (National Ballet of Cuba) Cecilia Kerche (Ballet of Rio de Janeiro) Carlos Acosta (Royal Ballet) Jose Martinez (Opera de Paris) Marcelo Gomes (American Ballet Theatre) Vladimir Vassilev (Bolshoi Ballet)Ekaterina Maximova (Bolshoi ballet )Patrick Dupont (Opera de Paris) Larissa Ponomarenko (Boston Ballet)
Justo became a Principal Dancer with the formely known North Carolina Dance Theatre(NCDT) Currently Charlotte Ballet in 1994 under the artistic direction of Salvatore Aiello and later world renowned Jean Pierre Bonnefoux(Paris Opera Ballet РNew York City Ballet), Patricia McBride(New York City Ballet), and Jerri Kumery(New York City Ballet). At NCDT he perform a wide range of ballets by several choreographers. By Balanchine The Four Temperaments, Who Cares, Concerto Barrocco, Serenade, Allegro Brillante, by Alvyn Ailey Feast of Ashes, by Agnes de Mille Rodeo and  by Sal Aiello Turn of the Screw, The Nutcracker, Clown and Others, Journey, Coppelia, and by Alonzo King Map, Chants and Dreamer. With NCDT he tour all over USA from New York City, New Orleans, Colorado, Texas, and performed in the Spoletto Festival in Charleston SC. During his time at NCDT he also was company member of the Chautauqua Institution as dancer and teacher.
Upon retirement from the ballet stage, in 2000 he was invited to become Artistic Director of the Carolina Ballet Theatre(CBT), by it's founder, Barbara Selvy. Justo is also a permanent guest teacher in several schools and ballet companies around the country. Mr Justo took CBT to a professional level forming and hiring the dancers who are part of CBT today managing all the productions that CBT presents every season. He choreographed and staged over 50 ballets for the company several of them Full length ballets like The Nutcracker(after Petipa), Hunchback of Notre Dame, Jolly Roger, Black Swan, Mirror Mirror. Arriving in Indigo City, Tipping Pointe, Jungle Book to name a few. and original work such as Pulling the strings, Tangofusion, Preludes for a Farewell, In/Humanity, Tango for Angelina, Celebration of Women, 8:25 PM, among many others. His latest full length was the acclaimed original ballet The Snow Princess
As director he brought to the company guest stagers and choreographer among them Mark Diamond, Viktor Plonikov, Claudio Longo, Heather Maloy, Martin Miranda, Alonzo King, Dwight Rhoden Andre Megerdichian and Laszo Berdo. He also develop a resident choreographer program allowing company member explore their creative expression adding to the CBT repertoire original works by Madeline Jazz, Anita Pacylowski, Francesca Genovese and Matt Harvey. As well Mr. Justo added to the CBT repertoire pieces by Marius Petipa, George Balanchine, Jules Perrot and Alexander Plisetsky.
As ballet teacher Hernan teaches all the upper levels at DanceArts Greenville and is a permanet guest teacher for summer intensives in several schools and companies around the country. At Charlotte Ballet and Charlotte Youth ballet in Charlotte NC, at Gretchen Green School of Dance in Savannah GA, at Springfield Ballet Company in Springfield IL., Boulder Ballet, and in the past was part of the faculty of Chautauqua Institution in Chautuauqua NY, Griffin Ballet in Griffin GA. Olney Ballet in Olney MD.
Since his leadership CBT collaborated with several different art organizations from in state and out state. Ballet Spartanburg SC, Columbia Classical Ballet SC, Greenville Symphony Orchestra, Greenville Light Opera Works, Greenville Fine Arts Center, International Ballet Academy SC, Springfield ballet IL, Olney Ballet MD, Charlotte Ballet formerly knows as North Carolina Dance Theatre, Children Museum of the Upstate SC, Greenville Public Library and Mr. Justo choreographed GLOW's (Greenville Light Opera Works) 2016 seasons West Side Story to critical acclaim.
Justo co-owns and directs DanceArts Greenville with his wife Anita Sun Pacylowski. Together, they have three children, Martin, Dancer in Carolina Ballet Theatre, Sofia graduated from University of South Carolina in 2023, and Nicolas Sophomore in Clemson University.
---